One of the stars on my ipod shuffle died yesterday. I've confessed before to having a weird running soundtrack that meshes alternative/punk with disco, but truth be told, I almost exclusively run to disco music. Here's why: you cannot listen to disco and be sad. Since running does not make me happy, adding that bouncy, sexy groove in my ears makes it much, much better. (True story: sometimes I'll even stop midstride and break into a diva dance move on the road if I'm sure no cars are coming and no one except Schuh's cows will see me. In these moments I'm wearing a silky dress with a swirly skirt instead of a sweaty t-shirt and my hair is huge instead of damply clinging to my skull. Yes, there is a disco ball illuminating me with glittery light.)
My favorite disco diva and I go way back. When I was a kid, these albums were in my parents' collection:
Just those costumes she wore made her
all that
to a 10-year-old girl. I mean, she was like a real-life Barbie doll. Donna Summer was the predecessor to the Madonnas and Lady GaGas and all of their spin-offs.
Whether listening to her on my parents' stereo or on the radio at the five and dime, I always pictured Donna Summer looking like this when she sang: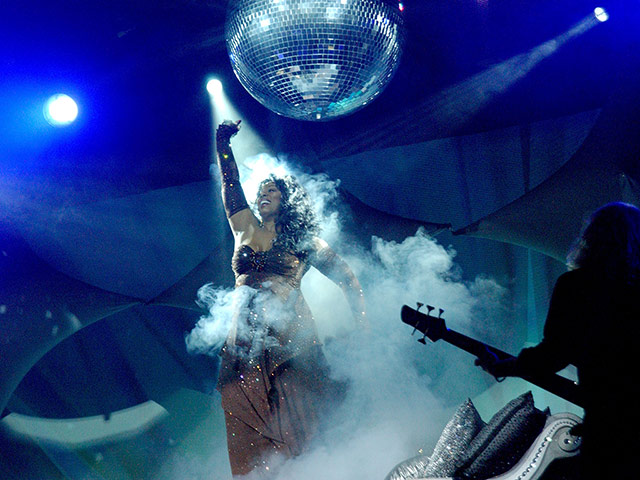 Look at that woman. She kicked ass.
Her songs make me think of summertime and heat. Romance and sex. Power and grace. Strength and independence. And roller skating for some reason. RIP, Donna Summer. And thanks for filling my ipod shuffle with awesomeness.