We're reading
The Crucible
in English 12. I have 30 copies. A classroom set. This means all the reading takes place
in class
because with 96 students there aren't enough copies for each student to have their own. It's a play. That's fine. We're reading it out loud anyway. Besides, the school board in the Happyland School District is all about thrift and frugality so 30 copies is what you get, and that's 10 more copies than the other plays sitting in the book cupboard. (Seriously. Thrift and frugality are the baseline for
99.3%
most of the decisions they make.)
In previous years students must have had their own copies when reading
The Crucible
. Their names are written on the inside cover, in cursive, in print, in ink, in pencil. I didn't ask my students to write names in the books because:
a. I don't have a seating chart
b. Two of the six hours I teach are not reading
The Crucible
, so they get stacked to the side throughout the day which means they move around the room
c. They can't take the books home anyway.
But a few students did write their names in the books. And then a few other students added their opinions of these students and within a couple days I noticed a trend of kids eagerly opening their books to the inside covers to read what had been added or written. They showed each other. They laughed. Some of the kids wrote more stuff (presumably). Some took pictures with their gaming /phone/camera/bane of my existence devices. Today I heard people reading out loud what had been written in some of the books.
Cruel things.
Mean things.
Vulgar things.
Unimaginative things.
It made me think of those slam books from my youth. The slam books documented by Judy Blume. The slam books I figured were long gone and the only harassment I needed to keep a vigilant eye out for was the online kind. I did NOT expect this.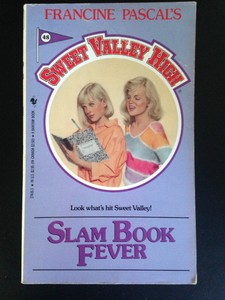 I spent 20 minutes today during my only prep period erasing and whiting out inside covers. They're seniors, immature and stupid, senseless and self-absorbed. With the books moving around the room it's impossible to track down the offenders and I'm not about to start witch hunt (although, it would be fitting, no?). Instead I'll have to verbally warn each class and check the insides of the books each hour to make sure nothing new gets written. I guess I'll treat the situation like graffiti. Scrub out every shred of it so no one feels empowered to add to it--that's usually the best approach.
Inside I'm groaning, though. It pisses me off to deal with something so stupid and dumb and petty and hateful when I have a million more important ways to spend my time lately. I feel bad for the kids who got "slammed" but I think the damage was minimal--the comments were generic enough that it doesn't qualify as intentional harassment.
So, the frazzled lady in Room 212 working overtime with a stack of papers to grade, a final exam to write, two units of curriculum to plan, and a mound of red tape paperwork to file so she can prove she's an effective teacher? She'll be opening 30 book covers at the end of first, third, fifth and sixth hours to prevent future harassment and keep the school district's property in good shape for years to come.
If I wrote a slam book it might read like this:
The senior class is:
mostly funny
sometimes stupid
very irritating
not as clever as they think they are
lazy
likeable (usually)
too loaded with boys
Ugh. What a cruddy grumpy post after a two-week hiatus! Let's try this again with something cheer-inducing.
This year's Oscars:
biased towards the Brits (but they totally deserve it)
mostly white
annoying because The Lego Movie got snubbed
funny because my secret gay boyfriend is hosting!
better not run late because I'll have to work in the morning
Spill it, reader. Write the slam book entry with me.
© 2014 Melissa Westemeier All Rights Reserved