First off, why haven't any of you mentioned how terrific Liane Moriarty is? I'm almost done with
Big Little Lies
and I want to read everything she's written now.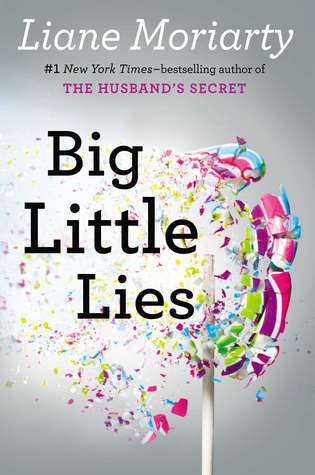 Read this right now. Skip reading the rest of this post and go read this funny, brilliant book!
Still reading this post? I'll try not to disappoint. I'll share a heartwarming tale of a mother and son. I've been spending a lot of time with Mr. T lately. He's not wrestling or playing basketball, basically he goes to school and then comes home. He's not terribly interested in a social life after the last bell of the day, and he's okay with that. (I've asked around, this is apparently pretty normal for boys his age.) I take him out to practice his driving. He goes grocery shopping with me. Sometimes he gets on my very last nerve (mostly because I need my alone time and lately I haven't had hardly any), but generally we get along well. We talk about school, politics, Dr. Who, gadgets, music, books, and nothing in particular.
This weekend he tagged along when I brought Mr. B to his basketball tournament. We spent a mind-numbing evening bored out of our wits together watching really bad basketball. I love my kid, but it was one of those painful days as a mom in the bleachers. Plus I was a little crabby.
Anyway, Mr. T and I sniped a bit back and forth, sometimes the very reason he gets on my last nerve is because he is
exactly like me
. Argumentative, quick to argue, a bit of a know-it-all.
Between games we sat at a table in the high school cafeteria chewing on walking tacos and this woman walked past with frosted eighties hair that looked like this, except without the mullet back and with even MORE Aqua Net holding it vertical:
Her hair was this big. Even bigger.
Actually this is more like it. Only frosted blonde.
We simultaneously gawked and snickered.
It's a splendid thing to realize your kid carries your traits.
Today he accompanied me on a mission to the mall. I never, ever go to the mall. It couldn't be helped, however. I had to purchase a birthday gift certificate, a pot of age-defying moisturizer only sold at Sephora (damn you, Sephora, you and your irresistible promises of beauty and smooth, line-free skin) and the monthly necessities from Target. The only way to do this efficiently was to shop at mall. Ugh. Once a year. Ugh.
As we parked and entered, Mr. T remarked that this was only his second trip to the mall.
No, you've been here before as a baby
, I reminded him. I waited to see how he'd react to it. The previous trip he remembered was over Christmas, shopping with his dad. Would he be impressed? Want to shop at The Buckle for new jeans? Ask to venture further in, past Sephora, into wings of the mall he'd never explored? I had a vision of him asking me to drive him back to the mall next weekend, to hang out with other teenaged friends wearing skinny jeans and apathetic stares. Maybe he'd be smitten by the glamor of working at Brookstone, surrounded by gadgets (he never met a gadget or gizmo he didn't love). The kid does have a knack for sales. I really, really hoped he didn't like the mall very much, but I determined to keep that opinion to myself.
We walked past the stores, our eyes assaulted by light and color. I made a single snide remark about my senses being overstimulated. He was silent as we were suddenly assaulted by the cloud of perfume wafting out of Hollister. Gasping for fresh air, we advanced another hundred feet, only to be hit by the fruity-flowery attack of Bath & Body Works. By the time we reached Sephora, Mr. T expressed concern that he might suffocate. Are we ready to leave yet, he asked.
I hurriedly purchased the vital anti-aging face cream and we beat our retreat towards Target.
Are you sure you don't want to stop anywhere and get anything?
No, I do not like the mall, my son said decisively. My heart swelled with pride.
I hate that there's no windows. I could never work here
, I confided. It's worse than at school, he agreed. I'm in one room all day that has windows. But the smells.
Yes, the smells.
And the people. It's all so wasteful and pointless. There's nothing you even need here.
Anti-aging moisturizer. For old skin,
I pointed out, holding up the box in my right hand
.
Well, yes, he agreed, and your skin
is
old. But besides
that
, there's like no reason to be here.
Ah, my son. You're turning out wonderful. You're turning out to be
just like me
.